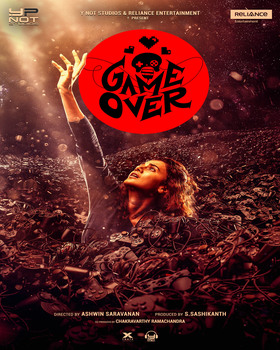 Movie Info
Actors: Taapsee Pannu, Vinodhini Vaidyanathan, Anish Kuruvilla, Sanchana Natarajan, Ramya Subramanian and Parvathi T.
Release Date: 14 June 2019
Country: India
Launguage: Tamil, Telugu and Hindi
Game Over
Psychological Thriller film
Our Contribution
Visual Effects and Digital Intermediate
About Movie
Game Over is a 2019 Indian psychological thriller film directed by Ashwin Saravanan. Produced by YNOT Studios and Reliance Entertainment, the film stars Taapsee Pannu as a wheelchair-bound woman who is defending her home from a mysterious intruder. The film was shot simultaneously in Tamil, Telugu and Hindi, with the latter being presented by Anurag Kashyap. The dialogues were written by Ashwin Saravanan and Kaavya Ramkumar in Tamil and Venkat Kacharla in Telugu. The music is composed by Ron Ethan Yohann.
Principal photography commenced on 10 October 2018. The film was released on 14 June 2019, and received generally positive reviews from critics, garnering praise for Taapsee's performance and Ashwin's direction.